Spoilers from episode 3 of ¡American Horror Stories¡.
The American Horror Story universe is immense to say the least. From the Scáthach flashbacks in 1587 to the return of the Antichrist in 2024, Ryan Murphy and his team have terrorized us time and again throughout nine seasons and multiple eras. As if that wasn't enough, a new spin-off called 'American Horror Stories' is scaring us even more with standalone chapters set in this world.
Episodes one and two were directly connected to 'American Horror Story' by setting the scares in the first season of Murder House (not to mention Hammy Roanoke's cameo). Episode three, titled 'Drive In', doesn't seem as concerned about the broader AHS universe – or not at first, anyway.
Things begin with a teenager named Chad who is trying to get into his girlfriend's pants with the help of 70s art guru Bob Ross. Unsurprisingly, Kelley doesn't give in on any of that, so Chad asks his friends for advice. Through an embarrassing dialogue, they convince Chad that fear is essentially the essence of nature, so he decides to take Kelley out on a date to see 'Rabbit Rabbit', the most cursed movie ever.
Hulu
Things get hot in the drive-thru (led by Adrienne Barbeau), until the kisses and hugs suddenly turn into stabbing and biting. It turns out that the Larry Bitterman movie is really cursed, but not as cursed as the poor guy who gets his penis bitten in the middle of fellatio. It turns out that the subliminal images spliced ​​into the film transform audiences into possessed, zombie-like creatures that eat human flesh. Fortunately, Chad and Kelley survive thanks to their foggy windows, think 'Titanic', but with undead.
Along the way, Naomi Grossman appears as a protester whose eye was devoured in an earlier screening. Unfortunately for her, Naomi's character soon loses her other eye to a different zombie, and unfortunately for us, Grossman doesn't reprise her iconic role as Pepper from 'Asylum.' Still, it's great to see an 'American Horror Story' icon return for the spinoff, alongside John Carroll Lynch, who plays the film's manic director.
In the end, Chad and Kelley catch up with Bitterman and set the latest copy of 'Rabbit Rabbit' on fire, along with a cute Pennywise toy and Larry himself, while the caravan is engulfed in flames. Victorious, the couple walk away from the fire in slow motion and then in the last scene of this episode, they finally go to bed. It seems that murder was a much stronger aphrodisiac than fear could ever be.
But as they do so, beasts of a much more deadly nature roam the outside. Because, unbeknownst to Chad and Kelley, 'Rabbit Rabbit' isn't gone at all. In fact, the movie is everywhere now thanks to Netflix, who just bought the rights from Larry before his death.
The episode ends with a short shot of 'Rabbit Rabbit' on a laptop before getting a view of the cityscape we started with, except this time yelling and explosions can be heard in the distance. For some time now, experts have feared that streaming services will bring about the death of cinema, but who knew they could also result in the end of civilization as we know it?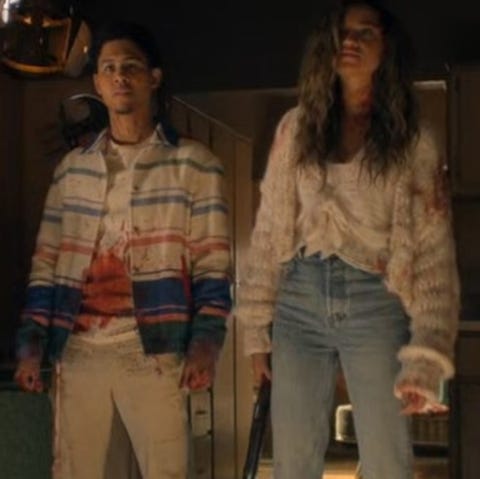 Hulu
Zombies are not as common in the 'American Horror Story' world as you might think. 'Coven' was the only season that really explored this idea in its entirety, most notably with the resurrected hordes of Marie Laveau, and also the role of Evan Peters as Kyle Spencer. But the arrival of zombie-like people here in this particular episode of 'American Horror Stories' could prove much more important.
While it's easy to dismiss the ending as a fun ending twist, it also raises questions about the broader AHS universe. Surely this curse will now travel all over the world? Netflix is ​​everywhere, after all, and that means the entire earth could be thrown into bloody chaos, just like the drive-thru.
Most of the horrors depicted in this franchise are pretty self-contained for the most part, so in the grand scheme of things, we wouldn't be surprised if future AHS stories ignore this twist entirely. While that wouldn't make sense in terms of canon, the show goes through enough periods of time for the writers to conveniently ignore this particular outbreak. And the fact that nothing specifies exactly when this episode takes place also helps in that regard.
However, this is still a game-changing event for 'American Horror Story', at least on paper, so imagine if this final twist turned out to be more important than we thought. Perhaps this outbreak could be part of Michael Langdon's larger plan to start the apocalypse, just as he did in season eight? Nuclear weapons almost always come into play, eventually when it comes to an old-fashioned zombie apocalypse.
Of course, Mallory changed the story, so the bombs we saw in season eight were never dropped. But what if this outbreak occurs sometime after 2024, after the new Antichrist was born at the end of Revelation?
The American Horror Story timeline beyond that point is still unknown, and we're pretty sure a possessed zombie contagion could be useful to someone like the Son of Satan …
This content is created and maintained by a third party, and imported onto this page to help users provide their email addresses. You may be able to find more information about this and similar content at piano.io