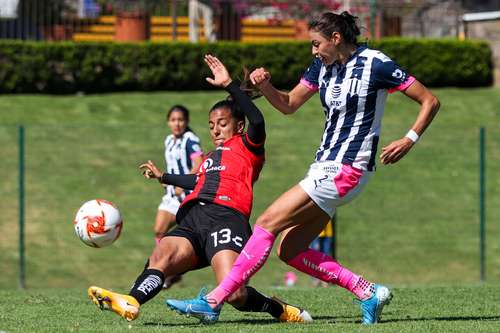 ▲ The Rayadas de Monterrey missed the opportunity to fight for the top by falling 3-1 with the rojinegras.Photo Imago7
Karla Torrijos
La Jornada newspaper
Friday, November 20, 2020, p. a10
Monterrey missed the opportunity to continue fighting for the general leadership of the Liga Mx Femenil after falling 3-1 against Atlas, which won the second place in the standings for the league, yesterday in a duel corresponding to the last day (17 ) of the regular phase of the 2020 Guardians tournament.
With this defeat, the Rayadas were left with 41 units and will advance to the next stage located in the third position of the table, while the red and black added the same number of points to stay with the sub-leadership, since they have a better goal difference.
The result also favored Tigres, because although he still has to play his last duel of the regular phase, today against Chivas, he was already proclaimed absolute leader, with 43 units, and if he defeated the rojiblancas, he would add 46.
The Atlas achieved the victory thanks to a triplet by Alison González at minutes 14, 50 and 54, the first and last from a penalty. In this way, the rojinegra reached 17 goals and is the leader in individual scoring.
Dinora Garza had achieved the tie at 36 with a left-footed goal, while her teammate Christina Burkenroad missed a penalty at 82.
Las Rayadas also lost their captain Rebeca Bernal, as she was sent off at minute 57 and will not play at least one game in the league.
For its part, Puebla defeated FC Juárez 3-0, Necaxa fell 2-1 against Xolas, León defeated Pumas 3-2 and Santos defeated Toluca 2-0.
On the other hand, Leonardo Cuéllar, coach of América, congratulated the players of the Liga Mx Femenil for the good performance they showed in the tournament despite the coronavirus pandemic and stressed that thanks to their efforts the contest did not decline.
The teams have made a great effort to maintain competitiveness, it takes a lot out of your balance when you have injured footballers or who must be saved for Covid-19, but we must congratulate everyone because thanks to them the league did not have a relegation, he declared yesterday at a virtual press conference.
Las Águilas will face Pachuca today, a duel in which they will seek victory to prolong the emotional injection we had after winning the classic against Chivas and start the league in good spirits.