In England they hallucinate this Tuesday after the leak of the first images of the new luxury megayacht of Roman Abramovich, owner of Chelsea, who has invested a whopping 500 million of euros on this spectacular ship that is still finishing construction in the shipyards.
The novelty is that for the first time the boat has been photographed, publishing these first snapshots of the amazing yacht 'Solaris', which measures 140 meters in length and will have eight decks, including a helicopter pad. The media specialized in this type of matter assure that when it is finished building it will be the most impressive yacht in the world, hence the expectation that had been generated by seeing it even if it was still unfinished.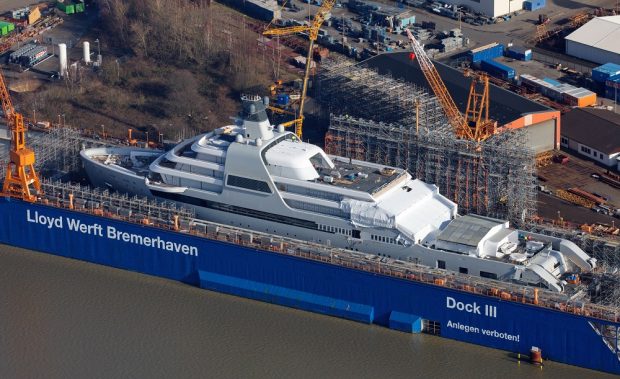 Abramovich's new megayacht (TheYachtPhoto.com)
The 'Solaris' is almost ready to start the sea trials and should be delivered to the Russian owner of Chelsea before next summer, so that he can enjoy it during the summer holidays. "This will be the yacht of the year," a source from the world of boats tells 'The Sun' about Abramovich's new and luxurious boat, whose yacht is being built in the Lloyd Werft shipyard in Bremerhaven, Germany.
The 'Solaris' will have a whopping 48 cabins and capacity for 36 passengers and a crew of 60 people, eight floors, a helicopter parking … "The details are kept secret, but it will be a magnificent purchase", add various sources about the megayacht, which as a curiosity is currently kept in a shed larger than Buckingham Palace. In any case, some of the luxuries that the ship will have have transcended, such as a spectacular pool, jacuzzi, spa, a beach club-style bar … In short, an amazing yacht that has cost Abramovich and the that you will soon be able to enjoy.