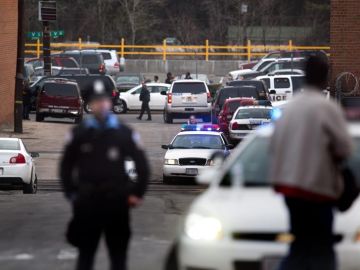 A 12-year-old boy killed a thief last Tuesday who I had entered the house of her 73-year-old grandmother and had injured her. The woman's child and grandson, who also lived in the house, Shooting to one of the two thieves to defend it. Following the results of the preliminary investigation, officers they do not plan to press charges against him.
The events occurred last Tuesday in North Carolina, in the United States, around 1 in the morning. The two burglars broke into the home in the Goldsboro neighborhood, hooded, demanding money and they shot the woman in the leg. When witnessing this situation, the woman's 12-year-old grandson took a gun and shot the robbers.
Neighbors, alarmed when they heard the shots, called the police. When they arrived, the agents found a man lying on the road a few meters from the house where the robbery attempt had taken place. Everything seems to indicate that the man they found he was one of the assailants, they took him to the hospital, but he passed away from his injuries. The alleged thief was a local neighbor 19 years.
The local television 'ABC11', collects the statements of the minor's uncle who also lived at home. "He just shot his grandmother … He would have shot him too, he would have shot me too, I would have killed us all"Randolph Bunn said, in defense of his nephew.
In addition, Bunn told how the events occurred: "They entered the house, I open the door and they went in … A guy had a gun. They just threw me on the floor … She was in the kitchen, I don't know why they shot him "The woman has spent the week in the hospital to recover from the gunshot wound.
The authorities also issued a statement with the results of the Preliminary investigation: "A minor under 12 years of age, occupant of the residence, shot at the suspects with a firearm in self defense, which forced them to flee the area. "The police continue with the investigation to clarify all the details of the event, although everything indicates that no charges will be filed against the 12-year-old boy.