2022 Subaru BRZ leaked! The new generation of the Japanese sports car has been leaked just hours after its world debut, an event that will be broadcast by the Subaru division in the United States. Some photos that allow you to see the new sports car from all angles and its more modern design keeping the proportions.
We already have assumed that the new Subaru BRZ it will not be sold in Europe. The Japanese brand has decided so due to its low sales in the Old Continent, but still it remains one of the most anticipated models. About three hours before his presentation from the United States, a leak has discovered the Subaru BRZ2022 from all angles.
As expected, Subaru has opted for keepthe proportions of the current model, which means that the Japanese firm has not changed the platform confirming the rumors, although it does has implemented changes to offer better dynamic behavior. One of the most important qualities, along with a design that looks sportier and cleaner, while retaining all the sportiness and aggressiveness.
The 2022 Subaru BRZ, completely uncovered in a leak
Ahead, the headlights now feature a new layout extended towards the sides of the hood and with two projectors inside, compared to the horizontal layout of the current model. In addition, a large grill shaped inverted trapeze occupies much of the front, while on the back it presents a new design of the optical groups. In addition, the boot lid has a spoiler integrated into the lip, which increases the sportiness.
Those of Subaru have also dedicated efforts to enhance the side, especially the rear wheel arches, wider thanks to bulging rear fins, while the front ones now have ventilation gills. For now, there is no leakage from the interior, which is expected a significant improvement.
Under the hood, the Subaru BRZ 2022 will mount a self-made engine, a completely new block with 2.4-liter four-cylinder boxer to replace the current 2.0-liter, not betting on supercharging and that will offer more than 205 hp. Transmission options will be two, six-speed manual or automatic transmission with paddles on the steering wheel. In just a few hours, we will have all the details.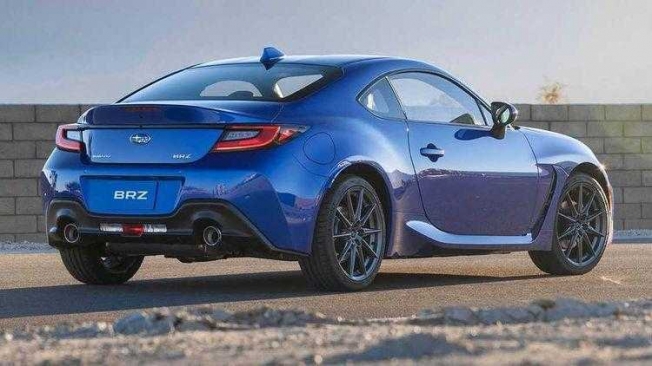 The new 2022 Subaru BRZ taillights match the trunk lid outline